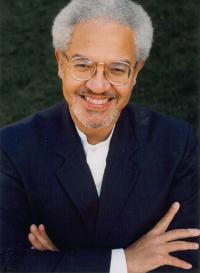 The Committees of Correspondence for Democracy and Socialism (CCDS) mourns the death of Manning Marable. At the same time, we celebrate his outstanding contributions to scholarship and his powerful impacting work for equality and for a world without exploitation, war and injustice.
Manning was a founding co-chair of CCDS. We are proud of Manning's membership in our organization and of his many profound contributions to our own understanding of our society and of how to fight for a just country and world.
From the founding of CCDS Manning provided inspiration and insight drawn from his penetrating understanding of the country's history and its complex contemporary currents. He was a forceful presence at a number of our conventions and symposia over the past two decades. At our national convention in Raleigh, North Carolina in 1999, Manning spoke powerfully of the need for unity of all progressive forces in advancing the battle for social change. In 2004 Manning addressed a large throng at a CCDS symposium at the Boston Social Forum where he drew a compelling picture of the human cost of a militarized economy. In 2005 Manning was a featured speaker at our first national symposium on building a progressive majority where he spoke of the racialization of Washington's foreign and domestic policies. Manning had located the latent and increasingly manifest racism inherent in the Iraq war and in the Bush administration's broader strategic objectives. With brilliant command of a vast array of data, Manning underscored the poisonous role of white supremacy in extending and consolidating the interests of those at the commanding corporate, military and government heights. These are but a few of Manning's pivotal and indispensable contributions to our organization and to the broader progressive community.
At every juncture, Manning stressed the centrality of the struggle against white supremacy as decisive to dismantling the social structures that oppress, exploit and stifle the full realization of our human potential. The defeat of racism was an essential basis for all working women and men to come together as equals; to breach traditional categories of "black and white" in order to dissolve existing exploitative social relations and instead build a radical democracy embodied in socialism. Manning's vision of liberation was neither integrationist nor separatist, but driven by the quest to give life to new values of human solidarity and to advance collective efforts to transform society into a vessel of justice and equality. In striving for that objective, Manning stressed the need for all the oppressed and all who work for economic justice, for peace, for environmental survival to make common cause.
That vision of social transformation justly placed Manning Marable in the pantheon of great thinkers and fighters for liberation such as W.E.B. Du Bois. Manning's weekly column that reached legions of readers of the African American press was aptly titled "Along the Color Line" echoing the great writing of Du Bois. Manning's scores of books and articles, many written while he suffered from a serious, debilitating illness, are testaments to his brilliance, but also to his remarkable courage and will to contribute to the struggle for justice under extremely difficult circumstances. His landmark work on Malcolm X, published just days after his death is a testament to his scholarly brilliance and his determination to reexamine Malcolm's life to better educate and sustain all working for a better world.
Manning Marable will be sorely missed. While he is irreplaceable, we honor his life and his values by continuing the struggle for a transformed society, for a truly human epoch that he advocated and worked so hard to achieve. CCDS pledges to continue to work for the world of justice and freedom that he envisioned and for which he fought.